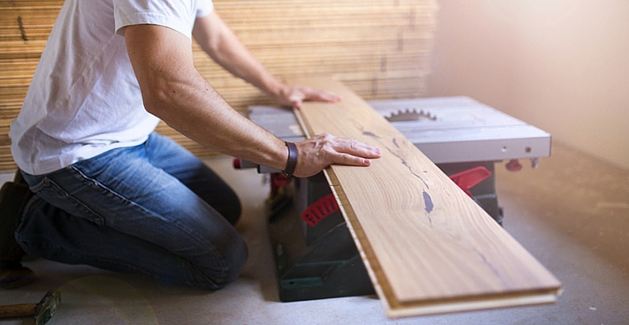 There's a tremendous sense of pride for a homeowner when it comes to successfully completing home improvement projects. In addition to the huge sense of accomplishment, chances are you padded your home improvement budget by saving a valuable amount of money on labor. This rings especially true if you are looking at a new flooring project and feel confident in handling it yourself instead of scheduling professional installation. Flooring is a large project and can be expensive, so it becomes imperative to weigh the pros and cons of a DIY project. Should I install my own floors or should a professional? As you consider your answer, here's a few aspects to factor in:
Pros and Cons of a DIY flooring project
You want to make sure it's done right. Making mistakes during installation can compromise the appearance, functionality and lifespan of your flooring. Unless you are an experienced DIYer, think about hiring a professional installer to ensure you love your new floor. Plus, many professional installers offer installation warranties that protect your floor for years to come. Some retailers even offer lifetime installation warranties. It's also important to read carefully about anything that could potentially void your product warranty if you go the DIY route.


Where your new floor will go also makes a huge difference. For instance, if you want to install laminate flooring in your laundry room, that may be the perfect project to gauge your expertise. Flooring options that can be installed as a floating floor over existing coverings are in fact engineered as DIY options. Also, the laundry room is not an area of the home that your guests will frequent. If you do make a mistake, it will not be noticed in a major way! If you're planning to install hardwood floors at your home entrance and hallways, these would be areas you want guaranteed with NO margin for error.
Technological advancements have made it easier to install floors than ever before. Most floating floors can be installed over hardwood, ceramic tile, laminate, vinyl, almost anything but carpet. If you are in the market for a hardwood floor, engineered wood flooring would be a great choice for a DIY project as many types can be installed as a floating floor, which makes the job immensely easier. The exception will be engineered hardwoods that have tongue and groove joints that need to be glued together to stay in place. Again, the biggest benefit to this project will be saving on the labor costs for hardwood floor installation.
Installing solid hardwood flooring does take a greater level of skill and expertise. For starters, you need to be able to gauge accurately whether the subfloor is strong enough to begin or if you need to add to it structurally. Assuming your wood subfloor is ready to go, you will also need to be acquire and be comfortable using power tools such as a jigsaw, circular saw or nailer. Also, you need to let the wood get acclimated to the temperature and humidity to the room or rooms in your home. Although this step may get overlooked by many first time installers, doing so will allow the wood to become stable and is the first step for proper installation. If any of these steps sound completely foreign to you, it would probably be wise to hire a professional for this installation and learn as much as you can about the process for future self-installed wood floors.
A DIY flooring project will probably take longer than hiring installers. Remember, the installation process will render the rooms in question unusable. Whereas an all-inclusive quote from a store will include all the related steps, YOU will solely be responsible for removing all furniture, removing anything on the wall, removing and disposing of old flooring, preparing the subfloor, and flooring material acclimation. Then it's time to actually begin installation! For an active home, this may be too long to have whole rooms unavailable. Regarding all types of flooring, only take on a DIY project if you have the time to take it slowly and ensure that every step is completed correctly. Rushing will only increase your stress level and possibly lead to mistakes which can prove costly to your budget.
The keys to your successful DIY installation will be precision and know-how. With proper planning and research, you can learn how to install floors in your home, with the results you want. What you save in financial resources, you should generously spend in time and attention to detail. Remember that the install questions you ask ahead of time, including our Installation Questions to Ask checklist, will help you prevent easily avoidable mishaps and gain confidence as you begin the project. And should the overall process become too overwhelming, don't ever hesitate to ask for help: you can always contact your local Carpet One Floor & Home store to work directly with one of our helpful flooring experts.